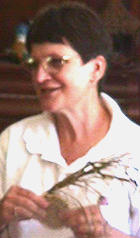 Toni Best, a Native American style basketmaker, and teacher of coiling and gourding, was attending one of Lois' class for the first time. Toni writes:

"Lois Rainwater is such a nice lady..we are lucky to be able to take classes with her.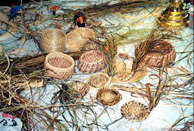 ?I can't wait until December when we will take one in which you take the whole king palm seed stem (infloresence) and weave it onto itself. They are beautiful.
"Lois had green grasses she had collected from about 2 years ago. She taught us how to coil using the green grass...start, stitches and techniques she uses. I am including a picture of Lois, one of all of our starts plus some of Lois' and the basket I completed the next day which I started at Lois'.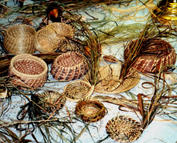 "I truly got inspired..she had a rosemary basket. so when I came home, I cut rosemary and wove one. The leaves help hinder seeing the stitches...and she had some kelp baskets. My tub is now full of kelp and I plan to weave one today. I had used kelp as the final rim on a gourd, but have not yet woven an entire basket with it."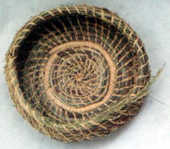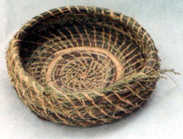 And here are the finished basket photos - LOVELY!
See Leigh's review, below, for links to MORE photos from Lois Rainwater's Summer Coiled Grass basket class!
(Check Toni's gallery for baskets!)