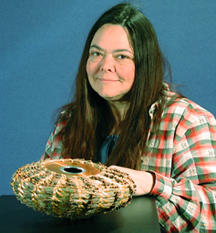 The Pine Needle Group
Gallery
Kendra K. Davis



photo of Kendra K. Davis by K. M. Podolsky

To see more pine needle art by Kendra K. Davis, go to Davis Place.
For pine needle art, sculpture, paintings and block prints, go to Kendra K Davis Art.

Links on this page open in a separate window. Click on any photo on this page for a larger view!

| | |
| --- | --- |
| "The Knowledge Gained From Tears and Kisses" | "Mother's Day Blues" |
| "Pretty in Pink" | "Where is North?" |
| "Ode to Dr. Seuss" | "Bubbles in the Storm" |



Kendra K. Davis is a Charter Member of the Pine Needle Group

To see more pine needle art by Kendra K. Davis, go to Davis Place.
For pine needle art, sculpture, paintings and block prints, go to Kendra K Davis Art.


Please sign Kendra K. Davis' Gallery Guestbook:


Back to Gallery Archive choices


Home Members Pine Needle Basket Links Other Coiled Forms
Resource Links History & Technical Links Forums Exchanges Mailing List





Web design by Pamela Zimmerman