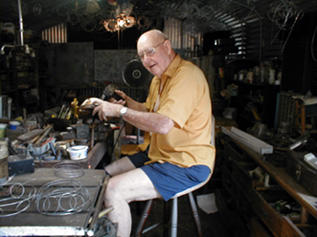 The Pine Needle Group
Feature
Woody Sitzer's
Workshop


Regretfully, Woody Sitzer passed away May 6, 2003

Chris Manno of C. Coyote Baskets & Wire Frames bought out "Woody's Goody Barn."

She can be contacted at:

Chris Manno
C. Coyote Baskets & Wire Frames
2121 Cedar Lane
Brussells, WI 54204
920-825-7897



Links on this page open in a separate window. Click on any photo on this page for a larger view!

| | |
| --- | --- |
| jig for an 8 loop basket | another jig for bending wire to form a basket |
| Soldering frame of a 6 ring basket on the jig | soldering bottom ring to small rings for a basket |
| finished solder | finished 12 loop basket frame |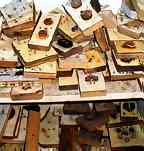 Read about the Pine Needle Duo.
See Mary Behrman's baskets.
Regretfully, Woody Sitzer passed away May 6, 2003.

Chris Manno of C. Coyote Baskets & Wire Frames bought out "Woody's Goody Barn."

She can be contacted at:

Chris Manno
C. Coyote Baskets & Wire Frames
2121 Cedar Lane
Brussells, WI 54204
920-825-7897



Back to Gallery choices


Home Members Pine Needle Basket Links Other Coiled Forms
Resource Links History & Technical Links Forums Exchanges Mailing List

Web design by Pamela Zimmerman