Fran Amos to Jeanie Pfantz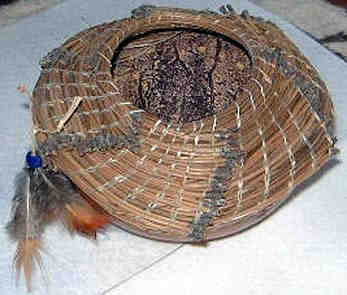 Jeanie says, about this exchange:

"Fran coiled pineneedles with sheaths which I like so much. She tied feathers and beads on one side and also put a design on the gourd

"I like the feathers and beads you put on the side. I also like the design you put on the gourd. I really like the pineneedles with the sheaths on. I like to leave the sheaths on some of the needles I use for my baskets. Your stiches are great!!!!I will treasure this gourd."