Lin Karrells to Rhoda Forbes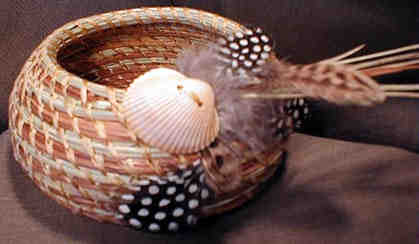 Lin describes the basket she made:

"...wood base laminated with inner sheets of birch bark, front and back for color variation, and coiled with sage green Western Coulter pine needles spiraled with the common brown needles. The final coil is free at the end, with a mix of sage and brown needles, and embellished with feathers and a shell."

Rhoda says:

"Lin did such a beautiful job, she called the basket "Cinnamon and Sage"...and the name perfectly fits! It has alternating rows of light green and cinnamon colored pineneedles. The base is wood with inner birch bark laminated to the top, just gourgeous. The birchbark is a piece that she collected in Maine, and it also has a small seashell, and feathers. "