Nella Johnson to Pamela Zimmerman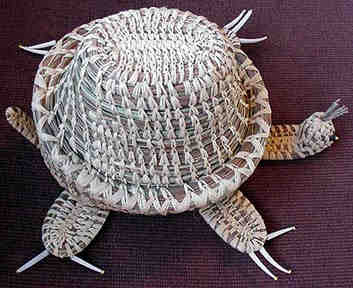 Pamela said this about her turtle:

"This one is a turtle! He is made of green and brown pine needles, mixed, so he has a wonderful variegated color. Bound with raffia, and naturally finished, just lovely. the whole turtle is quite large, maybe a foot or more in length. His neck is LOOONG, with a little round head, and he has a topknot of pine needle sheaths...they are very fine. If these are the needles she coiled the whole turtle from, then it must have taken a long time, because they are small. His eyes are overstitched in brown with a yellow seed bead accent. The legs and tail are also oval pieces, with toenails made of some sort of long (urchin spines?) white shells, with yellow seed bead ends...three per foot. The biggest surprise is his shell...it is tall and conical, and fits so tightly, you would hardly know that it is removable...this is a turtle treasure box! Wonderful! It reminds me very much of the Coushatta coiled animals I have seen in the past, a very endearing little guy."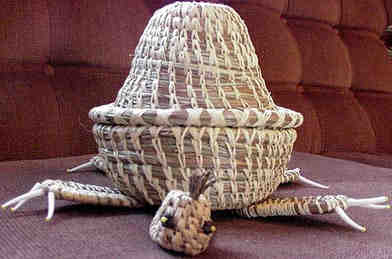 Nella added:

"the ones on his head is a smaller pine needle the others are some thing like the digger pine", and "the toe nails are dentilia shells is a snail from the ocean."