Rena Vickery to Jeanne Williams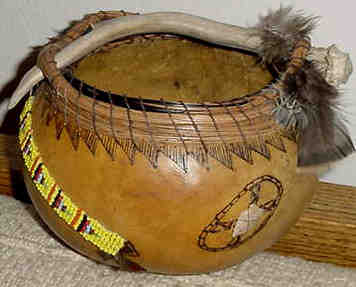 Jeanne wrote this about her gourd:
"It is an absolutely beautiful gourd/basket from Rena Vickery in Oklahoma. It is so intriguing the work she has done on this American Indian Basket. It has an antler handle and a real Indian Arrrowhead. It also has been woodburned around by the pineneedles that are woven around the antler. Rena has also done a strip of a yellow band of beads(her first attempt at this) with an Indian design around the gourd that she woodburned and added pheasant and turkey feathers. Very clever ideas coming from this lady.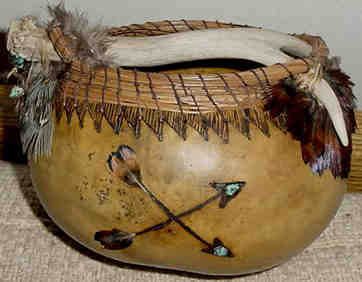 "Also an arrow with turquiose beads for the centers of the arrow and woodburned the rest of the arrow along with feathers. Along with all this she has included the cutest little teepee that was from the top part of this gourd, also including pineneedles and sticks from her peach tree. She has woodburned the sides with a buffalo, the sun and a cute deer on the side. Rena has written a note explaining where everything came from too. All of this is a treasure indeed!!!!! Rena has named it "God`s Creation", which it truely is."