Rhoda Forbes to Jan Harmon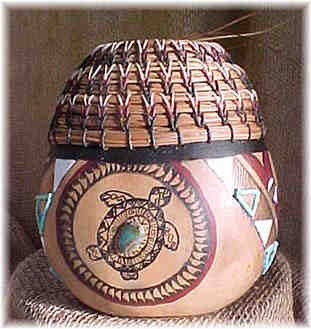 About this gourd, Jan says:

"Once I opened the box, I couldn't put the basket down, I just kept turning it around and over, admiring the wonderful designs. It has a gourd botton and coiled pineneedle finish. The gourd is covered with intricate design, bead and turquoise embellishment. The coiling around the top of the gourd is done in the "V" stitch in 3 of the colors used on the gourd bottom. The needles have a wonderful sheen to them (I hope Rhoda will share with us what finished she used on them). The last few inches of needles are allowed to "escape" the coil and fly off the end."

Rhoda says:

"Did you know that in many Native American legends the turtle is the only female fetish? I do the turtle a lot. Symbol for endurance, longevity."