Carol Miller to Nella Johnson
Cherry Holiday Bar
1 1/2 Cups Sugar
1 Cup Margarine
4 eggs
2 CupsFlour
1 TBSP lemon juice

Cream all ingredients together and spread in a 10x15 jelly roll pan. top with one can cherry pie filling. Bake at 350 . when cool top with powdered sugar icing.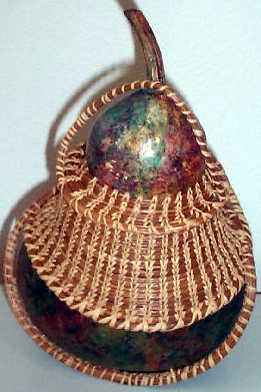 Nella describes her new gourd:
"I received my exchange basket from carol miller yesterday. it's a gourd with pine needle it's done in split stitch hard to describe. the color of the gourd is green/gold/some red in it ... thanks again to carol"