Dolores Gatz to Susan Butts
Pumpkin Chocolate-chip Cookies
1 Cup cooked pumpkin
1-cup sugar
½ cup oil
1 egg
2 cups flour
2 teaspoons baking powder
1-teaspoon cinnamon
½ teaspoon salt
1-teaspoon baking soda dissolved in 1-teaspoon milk
1 cup semisweet chocolate pieces
½ cup chopped nuts (optional)
1-teaspoon vanilla
Combine pumpkin, sugar, oil and egg. Stir together flour, baking powder, cinnamon and salt; add to pumpkin mixture along with dissolved soda and mix well. Stir in chocolate, nuts and vanilla. Drop by teaspoonfuls on lightly greased cookie sheet.
Bake in preheated 375' oven for 10 to 12 minutes.
Makes about 5 dozen.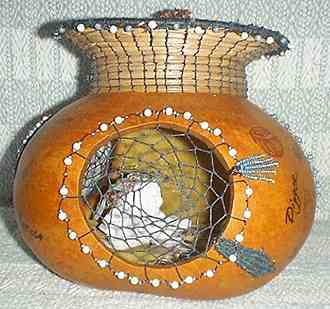 This is what Susan has to say about her new basket:
"... from Delores Gatz, and is a lovely gourd, with 3 dream catchers worked into it on 3 sides. There are beads around each dream catcher. On the inside, Delores has glued a tiny little angel, reading a book, with miniature books lying all around her. She also sent me 2 recipes, one for a breakfast casserole, and one for pumpkin-chocolate chip cookies."