Fran Amos to Jeanne Williams
Chocolate Popcorn
6 cups air popped popcorn
1 tablespoon margarine
2 tablespoons light corn syrup
1 tablespoon cocoa powder
1 1/2 tablespoons skim milk powder
1/8 teaspoon salt

Keep popped corn warm in oven while making chocolate sauce. Add corn syrup, cocoa, milk powder, and salt. Stir oven low heat until well blended and mixture is hot. Pour over warn popcorn. Pour over warm popcorn. Quickly stir to coat all pieces.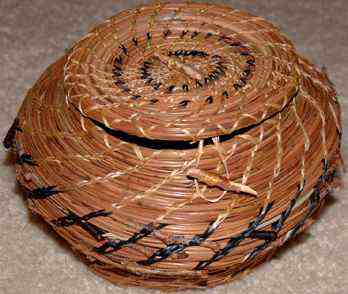 This is what Jeanne says about her new basket:
"I have received the most wonderful exchange lidded recipe basket from Fran Amos. :-)Thank you so much, Fran!!!!
" It is more like a vase shape with a hinged lid with little wood sticks for the handle and tie off.
" When I opened it up, there was this amazing stamped thunderbird looking at me done on clay(?)perhaps! with a copper finish. When I turned it over the thunderbird was on the back with her intials engraved in it. But before I had opened up the box, this aroma came from it that was definitely chocolate!!!!:-)Fran had made some of her chocolate popcorn and crispy pecans. Yummy, thanks you Fran. :-)"