Jamie Mc Guire to Carol Miller
Marinated Artichoke Rice Salad

2 Packages Chicken Flavored "Rice-a-Roni"
4 cups water
2 jars (6oz.) marinated artichoke hearts (drained, reserve liquid)
3/4 cup slivered almonds (I like to toast them)
1 cup diced green pepper
1 1/3 cups diced green onion (I use 1 bunch)
1 1/2 cups mayonnaise

Prepare rice as per box directions using 4 cups water. Let rice cool. Mix artichoke hearts, almonds, green pepper and green onion into rice. Combine mayonnaise and reserved artichoke heart liquid to make dressing and mix into the rice mixture.

*This salad is always better if it is made and let set in fridge for a day or two.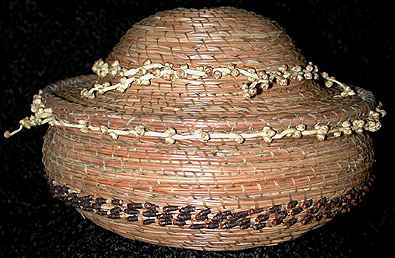 Carol wrote this about her new basket:

"I am so thrilled, I received my swap basket from Jamie Mcguire today. It is gorgeous, she says this is her first swap, she has done great! She made a very nice basket with a snug lid, embellished with very interesting material(I have never seen it before, assume from ocean?), and there are several rows of needles with the caps left on. LOVE it Jamie-Thanks SO much. The recipe she included is for Marinated Artichoke and Rice Salad. Cannot wait to try it, I love artichoke hearts and rice."