Jeanne Williams to Pamela Zimmerman
Italian Almond Biscotti
It is delicious with your morning coffee or tea. I make it a bunch and also make it for Xmas gifts stuck in a pretty jar.
4-4 1/2 cup flour
1 TBSP salt
1 cup (2 sticks) Butter
2 cup sugar(1 cup brown, 1 cup white)
4 eggs(1 separated-eggyolk,and white)
1 TBSP Almond extract or vanilla extract
2 tsp cinnamon
2 tsp cloves
1 cup slivered almonds
Heat oven to 325

grease 2 large baking sheets
in bowl mix 4 cups flour, baking powder ans salt
set aside in large bowl
beat butter, sugar add 3 eggs-beat one at a time
separate egg white in a cup
mix egg yolk with almond extract or vanilla extract
add to butter mixture
mix cinnamon,add cloves with flour
gradually add flour to egg mixture
stir in almonds
If Dough is sticky at this time, add 1/2 cup more flour
divide into 2 loaves, length wise on baking pan of a 2" log roll
brush with egg white
bake 30 minutes till firm
reduce heat to 250
slice biscotti with serrated knifr
bake slices laying them flat on pan for 15 minutes on each side
They should come out nice and firm but not as crunchy as the ones that come from the store. Put in a covered container or you can freeze them too. :-) Enjoy!!!!!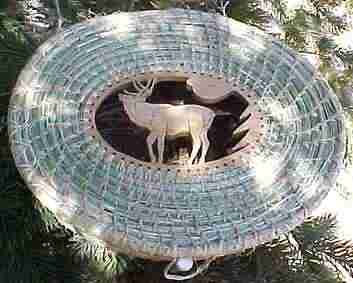 Here is what Pamela said about her new basket:
"There was a little collective gasp when I removed the basket from the box...it has a wonderful die-cut (?whatever you call it?) wooden center with an elk? I think? in the middle, made by Jeanne's good friend.
"Stitched with raffia (of course), and with green needles on the lid, which is flat and hinged...in a very unconventional manner...using slices of antlers as hinges! Quite ingenious. The clasp is also a bit of the end of an antler. Overall, the box is large, oval, and contained - you guessed it - a "sample" of the recipe Jeanne sent....oh my!
"They are almond biscotti, huge, crunchy and absolutely crammed with almond slivers. We all had to have one right away, Lynn's husband, Howard, dipping his into his white wine. Wonderful! Thank you so much, Jeanne.
"Oh, the bottom of the box also has a sampling of Jeanne's teneriffe skill - two round discs, joined with a bit of fancy bridgework...I don't remember what that sort of "webbing" is called, and then coiled around, to make the basket oval. Overall, it is a mix of brown and green needles. "