Kathy Awbrey to Barbara West
SALSA
12 Cups peeled, seeded tomatoes cut in pieces
3 Large onions, diced
1/2 Cup diced Jalepino peppers or
1/2 Jar Mrs Renfros Jalepino peppers, diced
5 cloves garlic, chopped
2 Cups Chopped Green Peppers
1 - 4 oz can green chili's 1 - 12 oz can Tomato Paste
1 Tblsp salt
1/4 Cup sugar
3/4 Cup vinegar
2 Tblsp dried cilantro
1 Tblsp Mexican Mix (optional)

Pack in sterilized pint jars, and process according to canning directions for tomatoes. Makes 9 pints.

MEXICAN MIX

1/2 Tblsp Coriander
1 Tblsp Cumin
2 Tblsp dried Parsley
1 Tblsp dried Oregano
1 Tblsp Onion flakes
1 Bay leaf
1 Tblsp Whole red peppers
1/4 Teasp Garlic Powder
2 Tblsp dried Cilantro
1 Teasp Celery Seed

Mix in blender until well blended. Store in dry place.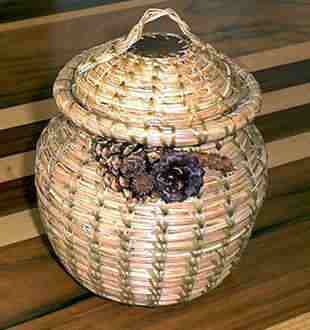 Kathy's basket is called "Jack Pine".
Here is what Barbara wrote about her new basket:
"I just wanted Kathy and everyone know I just got the most beautiful basket , it is made from nature and the stitches look like wheat stitches. I will be glad when you can see the picture of it. She said the pine needles were from ponderosa pine, the wood for the center was Myrtle Wood which grows exclusively in Western Oregon, the wood was cut and dried by her father-in-law many years ago and the circles were cut and holes drilled by her husband Bill. The bits of limb and cones that she has put on, are from the jack pine in Central Oregon. She also sent a recipe for her salsa and mexican mix, also encluded was a jar of the salsa and chips. Kathy I love Salsa and I have already sampled it or maybe I should say I have already ate 1/4 of it, the only problem I had was getting some of the chips, My husband grabbed them right off. Thanks so much for such a beautiful basket and the wonderful goodies"