Lin Karrels to Pauline Rose
Banana Apple Bread
1/2 cup shortening (I use stick Crisco, regular or butter flavor)
1 cup sugar
2 eggs
1 cup apples (more or less) chopped fine in a food processor
1 cup banana (more or less) liquified in a food processor
1 cup flour
1 tea baking soda
1/2 tea salt
Cream shortening in mixer, add sugar and eggs, beat just to blend. Peel, quarter and process apples in processor until fairly tiny bits (do not liquify). I use the pulse feature on my processor to do this. Add apples to mixture. Peel and quarter bananas and liquify in the processor. Add bananas to mixture. Beat just to blend. Combine flour, soda and salt in bowl and add to creamed mixture. Do not beat for any length of time, just to blend. Pour into greased pan and bake at 350 for one hour or make 12 muffins and bake at 375 for 25 minutes. Great way to use up those very ripe bananas and lone apple. This recipe is very flexible on amount of banana and apple.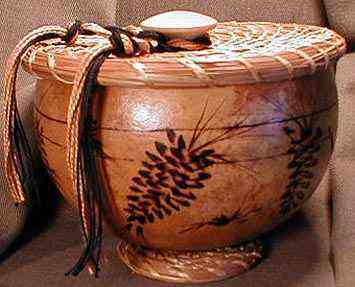 Here is what Pauline said about her new basket:
"Received my basket this morning and joy of joys it was a gourd . I am so happy about that i had never seen a gourd With nice pine cones Burned on it, I love it Thank you Lin Karrels"