Lynn Hoyt to Nancy Gildersleeve
Giant Crisp Pecan Chocolate Chips
2 cups flour
1 teaspoon baking soda
1 teaspoon salt
1 cup butter flavor Crisco
1 1/2 cups white sugar
1 egg
1 teaspoon vanilla
1 1/2 cups semisweet chocolate chips (Nestle)
1 cup very coarsly chopped pecans

Preheat oven to 350 degrees.
Mix flour, baking soda and salt, set aside.
In large bowl cream shortening until fluffy. Beat in sugar until light, Beat in egg and vanilla until blended.
Stir in flour mixture, chocolate chips and nuts until well mixed.
For giant cookies shape into 2 inch balls, spaced 6 per cookie sheet.
Lightly flatten the balls with palm of hand.
Bake 20 minutes.
Note: I sometimes make smaller cookies to stretch them for a crowd. Check your oven after 15 minutes instead of 20 to make sure they aren't overcooking.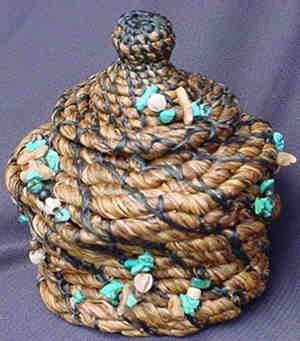 Here is what Nancy said about her new basket:
"The mailman left me a box from Lynn Hoyt yesterday with the neatest basket in it! She made cordage from her day lily leaves, a lovely glossy golden brown, and coiled it into a firm pot with black nylon, topped with a conical lid. Scattered over the basket are short strings of turquoise and shell beads which contrast nicely with the cordage. It is really a treasure--thanks so much, Lynn."