Nancy Gildersleeve to Kathy Awbrey
Tomato Bake
1 lb can of tomatoes
6 T light brown sugar
1 t salt
3/4 stick butter or margarine
1 1/2 cup broken bread pieces

Melt butter in 2 qt casserole dish. Toss bread crumbs in melted butter. Heat tomatoes with sugar and salt in a sauce pan. Pour over crumbs, mix well. Bake 1 hour at 300 degrees.

Yummy!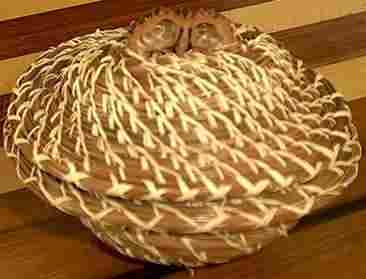 Here is what Kathy had to say about her new basket:
"I GOT MY BASKET!!!!!!!! This is so exciting. My first basket exchange. As soon as I saw the box and it was from Nancy Gildersleeve, I just knew what it was. My husbands first reaction to the box was, "What did you buy?" I think he gets as much kick out of this as I do. She sent me an egg shaped basket to "celebrate spring". She used two of the black walnut slices that I had exchanged with her last summer for some of her pineneedles. What a suprise. Both Bill and I were impressed with the way she used a black walnut slice for the handle on the lid. She used a spiral wheat stitch out of raffia. Her work is beautiful. Thanks again Nancy for the wonderful basket."