Pamela Zimmerman to Sue Cowell
French Banana Cake
2/3 c sour milk
1 T vinegar
1 t. baking soda
1 pk white or yellow cake mix
2 eggs
1 1/4 c very ripe mashed banana
(if my bananas are not black and jelly-ish, I mash very well, and add about 1 tsp rum. Almost fermenting bananas make the BEST cake.)
2/3 c Heath toffee bits

Mix water, vinegar and soda. Combine with cake mix and eggs. Stir until moistened. Scrape bowl with spatula. Add mashed bananas. Beat with electric mixer 3 minutes at medium speed (300 strokes by hand). Blend in toffee bits. Pour into greased and floured bundt pan. Bake at 350 for at least 40 mins, or until until toothpick comes out clean. Do not remove from pan until completely cool.
This original recipe is eaten out of hand at my house, even by the kids, without icing (a major thing, most of the time, they will ONLY eat the icing).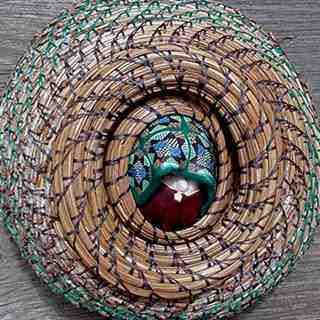 here is what Sue had to say about her new basket:
"...the basket is ME!!! The center of the lid has one of Pamela's incredible polymer clay creations......my face curled wrapped in one of my daughter's quilts and my nose buried in a book. (I hope the pictures Pamela posts do justice to this art work.) It's truly a marvel. I think she's been spying on me, for this is exactly what I do at night when I can't sleep.
"The basket is natural colored needles, beautifully stitched with dark brown & green artificial sinew, which picks up the colors in the quilt. While the lid is smooth, so as not to detract from the center, the top body of the basket has the sheaths left on some of the needles for contrasting texture. The basket is extremely firm, and the lid very close fitting, which I know is not easy to do. Center piece aside, the lid itself is a beautiful sculpture."