Pauline Rose to Kendra K. Davis
Fettuccine Primavera with Chicken
Preparation Time: 10 minutes
Cooking Time: 15 minutes

INGREDIENTS:
2 Tbsp (25 mL) margarine or butter
2 cups (500 mL) mixed fresh or frozen vegetables
1 1/2 cups (375 mL) cubed cooked chicken
1 can (10 oz/284 mL) Campbell's condensed Cream of Chicken soup
1/2 cup (125 mL) milk
1/3 cup (75 mL) grated Parmesan cheese
3 cups (750 mL) hot cooked fettuccine (8 oz/250 g dry)

DIRECTIONS:
In large skillet over medium heat, melt margarine. Stir-fry vegetables until tender-crisp.
Stir in chicken, soup, milk and cheese. Bring to boil. Reduce heat to low. Simmer 5 minutes or until vegetables are tender, stirring occasionally.
Pour over fettuccine; toss to coat. Makes 4 servings.

Tips:

Use vegetables such as: onion wedges, thinly sliced carrots, sliced mushrooms, zucchini, cut green beans, broccoli flowerets or snow peas.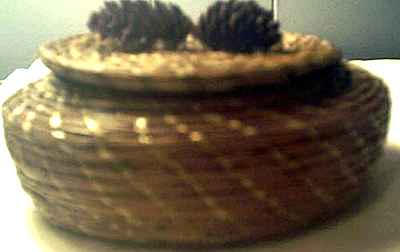 Here is what Kendra had to say about her new basket:
"Thank you Pauline for the lidded basket and recipe for Fettuccine Primavera with Chicken, it looks like a great recipe that will be quick to make. This basket is a little bit of a mystery I don't know what kind of needles Pauline has used and it looks as though many kinds of materials have been used for binding! Cotton Floss? and Raffia? Started with a pretty blue tenneffre and topped with two cute little pine cones."