Coiled by Cookie Cala for Pamela Zimmerman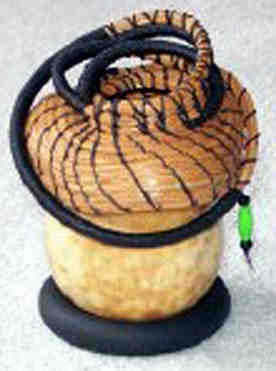 This was a small, gracefully corseted gourd (forgive me not being familiar enough with all the types to tell you what sort it is)...and Cookie has cut it just about the breast line, and polished it to an amazingly high sheen.

The gourd is naturally mottled, buff and tan.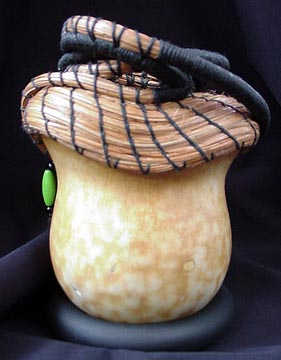 Cookie cut it in an undulation, and then coiled in very sweet, tiny coils, with fine pine needles that look like brown grass. She bound it with black waxed linen, taking 2 stitches in each hole for only the first row, making tiny arrows at the bottom of each row of perfect stitches.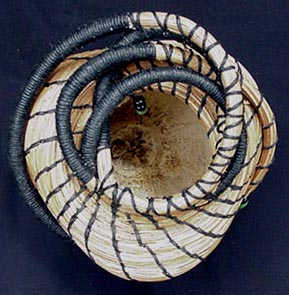 After following the undulation of the gourd for quite a few rows, come the shoulders and looped wrapped coils in and out...what a maze it is to follow! I do not know how she could possibly plan this, or support these lovely, fragile-looking bands.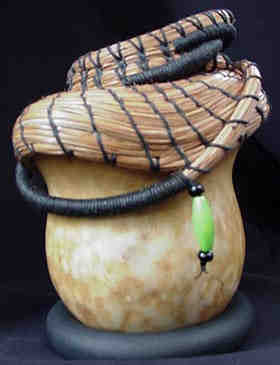 But the delicacy of these coils is misleading - they combine to form an incredibly hefty and tight piece. The last free coil swoops down to the waist, and comes back up to make a visual circle - striking. There are dangling bead accents in black and vivid green at one point on the outside, and on the inside.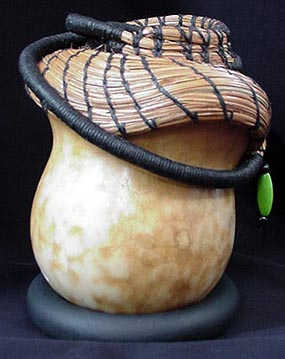 The effect is almost that of a curvaceous woman with multiple necklaces, and a dangling bracelet, clasping her hands at her waist. I adore it.
What else can I say? It is also very attractive the way Cookie signs her name, in gold letters, on the bottom of the gourd. She made a wonderfully simple matte black stand to hold this masterpiece in exactly the right position for proper viewing. No cheating.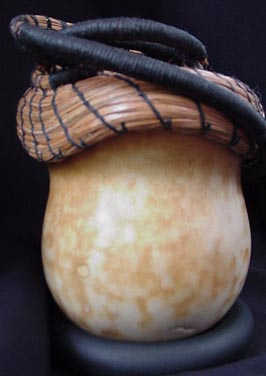 Actually, I have made her lie down for awhile, but it feels like she is not relaxing that way. She is an upright woman.