Coiled by Dorothy Etzel for Pamela Zimmerman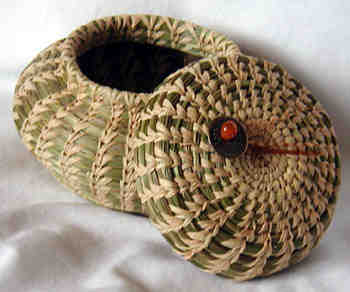 The basket is sweet grass stitched with natural raffia. It is fashioned after Native American treasure baskets which were often used to store a baby's umbilical cord or any other special treasure. The embellishment is a Chinese coin, an amber bead, and three pheasant feathers.

Carefully slicing the tape on the edge, the smell is what hit me first...an overwhelming scent - that dry, refreshing, everlasting summer sort of smell...making my heart beat faster. There was a note on top, very simple, a description of the "Sweetgrass Treasure Basket" and "I hope you like it." Is she kidding? Gingerly lifting the wads of white paper inside, I come to it, on the bottom...it is amazing! My outstretched thumb and index fingers can encircle it at the widest point. It is about 4 1/2" wide, about 3 1/2 inches tall (measuring with my eyes, now)...a vase type shape, with slightly fluted rim, filled with a royal velvet bag. The lid, simple, round perfection, with an offset accent - three impossibly slender amber/raffia colored pheasant feathers. Fixed somehow so they appear to have just fallen, splayed only enough to see each feather's separateness, and dipping falling lower, like a flag. Their end is covered with a Chinese coin - the kind with a hole through the middle, which in turn has a round amber bead on top. Wonderful! Bound in raffia, in perfect stitches, coiled of brown pine needles and rich with sweetgrass...this is feast for the senses, a treasure in every way.