Coiled by Lynn Hoyt for Leigh Adams
"A Maiden's Grace"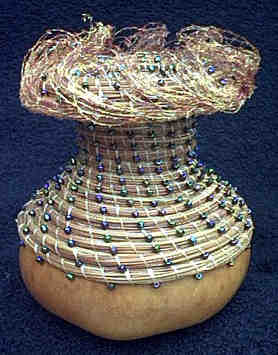 "Standing tall with strength and beauty; this is a maiden's grace..."
I have just received a gourd like none other in my collection (and I have gourds from everywhere!) Lynn has just sent me a bottle gourd with a natural finish and coiled upwards with countless rows of perfect stitches and every other stitch has a bead on it! The coils are delicate and well placed and the neck of the weaving draws in and upwards, only to flow out again and over into a cowled rim. And still with the beads and perfect stiches and as if that were not enough, swirling about the top of the cowled rim is a perfectly curled miscanthus fringe reiterating the coiled spirals.