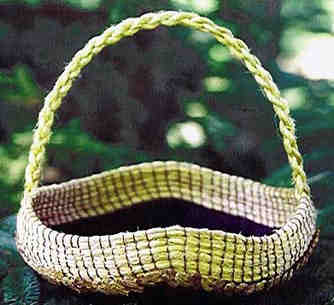 Coiled by Valerie Miller for Angie Wagner
the basket base is a gourd bottom about 9" across dyed a deep dark brown (the inside is darker than the outside). The edge of the gourd was cut so it has a wave effect rolling around the top of the coiling. Valerie used bailers twine and waxed linen for the coiling. The stitches are in perfect lines (I haven't mastered that yet).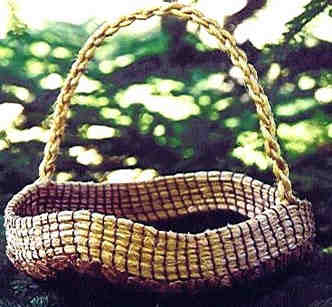 The last row of coiling leads up to a 4 (?) strand braided handle. On the first row of coiling are what looks like gourd seeds which were drilled twice and stitched around the basket. I love it. I've had a horse for over 20 years and went through a lot of bailers twine in that time :) I always hated to throw it away. Now I know what I should've been doing with it. The basket is functional and beautiful. I was so intrigued when I opened the box and saw the top of the handle sticking out through the packing peanuts!