The Pine Needle Group
Gallery
Feature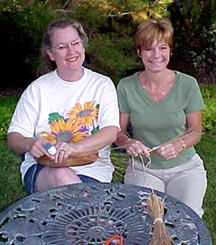 FRIENDS COILING
HEART TO HEART




By Lisa McCament and Shelly Weis
Edited by Pamela Zimmerman



Come see baskets by Lisa McCament.-New Photos for January 2003!
Come see baskets by Shelly Weis.
Shelly Weis and Lisa McCament are next-door neighbors in Escondido. They met six years ago casually, but never got to know each other until, recently, pine needle baskets brought them together.
Shelly had major heart surgery in 1997, an unusual procedure as she was not yet 40 years old. Shelly's hospitalization was prolonged; including heart valve surgery, 32 days of life support, followed by still more weeks of hospital care. When she was finally released, she could no longer work her usual full-time, man-sized job in the grocery store which she had held for 20 years.
Lisa has worked at home, doing medical transcription for about ten years. When Shelly returned home from the hospital, it was only natural that she and Lisa would have the opportunity to become friends.
Lisa had taken a pine needle basketry class a few years before in Escondido, CA from Nadine Spier. One day during Shelly's recuperation at home, Lisa taught her how to make a pine needle basket.
Shelly really liked making pine needle baskets, and soon she and Lisa were teaching a basketry class together at the ladies group at their church.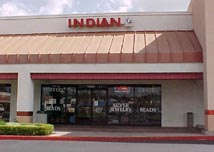 It wasn't long before Shelly was selling baskets at an Indian Store in Escondido and an antique store in Temecula. When she offered them for sale on E-bay, Pamela saw them and invited her to join the Pine Needle Group. It was Lisa, however, who led the way again into unfamiliar territory, and joined first. Now both are active members and are expanding their circle of coiling contacts on the internet.
Shelly's baskets have turned into a new business for her, while Lisa's baskets are mainly shared with family and friends . Both recently participated in their first basket exchange, sponsored by the Pine Needle Group mailing list
Making pine baskets has given Shelly and Lisa so much pleasure, and they try to share the craft with as many people as possible. Shelly's son, Ryan, who is 17, lives many miles away with his father. She taught Ryan to coil pine needle baskets, and they became closer as she watched him make his first basket.
Shelly and Lisa's habit has spread to their long-suffering husbands who take them to harvest needles, spot good pine trees for them, and praise each new basket (as if it doesn't look exactly the same to them as the last one. )
Together, the friends have tried coiling with waxed linen, yarn and raffia binders. At the moment, both prefer working with sinew, but who knows what it will be next week! Shelly says her basketry makes her feel like she's accomplishing something and gives her a feeling of self-worth. Lisa says she is just plain obsessed and offers no other excuse. They both believe that God saved Shelly's life, and their basketry is an expression of the faith they share in their Creator.
Friends have heard Lisa fondly say that Shelly has mastered the craft, surpassing her teacher in skill. She points out Shelly's special gift for exploring new techniques and finding better ways to do old ones. But outside observers are finding incredible beauty - doubled by their friendship - in all their works.
Come see baskets by Lisa McCament.-New Photos for June!
Come see baskets byShelly Weis. -New Photos for June!
Lisa McCament and Shelly Weis are Members of The Pine Needle Group.