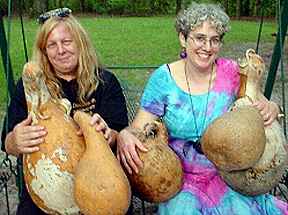 2002 North Carolina Gourd Show
Lynn Hoyt Reports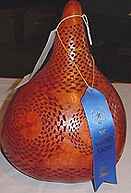 Returned from the NC gourd show with some great new tools and am eager to start working with them-- 3 round ball-tips for the pyro and a set of 4 wood carving tools. Was able to try them out at David Wutke's booth, and they are all wonderful. The ball tips are very exciting. They don't dig into the gourd and flow as smooth as silk over the surface in any direction! Curves will be easy now! David is definately carrying some state of the art tools!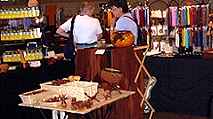 Primitive Originals booth was about 3 times larger than last year, with all sorts of unusual goodies that just can't be found anywhere else. The bead and embellishment selection was great. Also an expanded section of all sorts of cords and binders. Gosh I love shopping at places like this!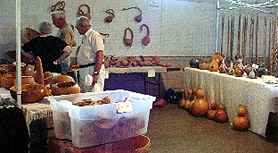 Pamela and I noticed that there were many more gourds for sale compared to last year. Of course we went on Sunday last time, but I still think there were more gourd vendors. Also were more tools and supplies, thank goodness.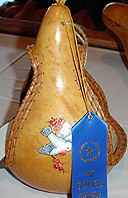 We got to meet Gladys and Sandy from this list, and some other assorted coilers and gourdheads too. Had a great time!
Pamela Zimmerman's Addenda
I agree with all Lynn said about the NC Gourd show...in addition...she did not mention that the two gourds she entered in the competition both won ribbons...Her carved and Coiled Gourd "Harmony" won a blue ribbon in the basketry (non-natural materials ) division.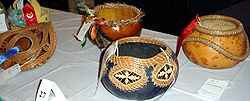 It was pretty funny that all the gourds in the natural materials division were also bound with sinew!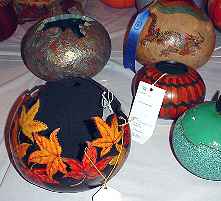 She also won a third place (white) ribbon for her absolutely lovely burned and stained Sweet Gum leaf gourd...the competition in that category was terribly fierce, and it was really great that she got a ribbon!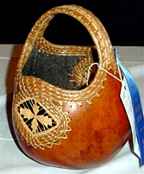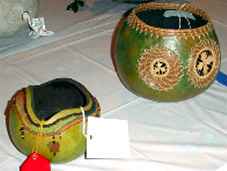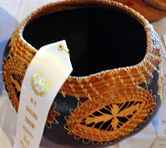 Other coiled entries (at left and right!) were dominated by Joyce Adkins. Joyce's gourds were teneriffe variations, using sinew. Very nice.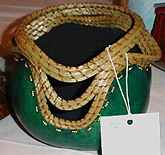 Was great to meet Sandy and Gladys, so sorry we could not stay for the dinner, hope you had fun there! Also missed Judy Mallow, shoot!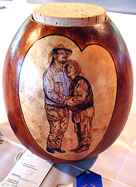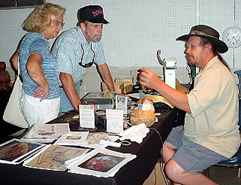 Ronna Wuttke was absent, seems she is still struggling with her back issues, and was sorely missed. Her gourds however, were a presence of their own. I KNEW when I saw them...you simply cannot mistake them...the tree frogs gourd was fabulous, as was the one with she and David (full-length)...a very touching tableau. Of course she got all sorts of ribbons, in the highest categories.
It was such a pleasure to see David, I don't know how he does all that...the amazing array of tools he offers...wow. Knows how to use them too (thank goodness.) If only I did. He also has a great line of how-to publications, as well as really fabulous dyed needles and very unusual tauga nut slices, dyes, etc. Don't forget to look at his website. I must say I my littlest boy was quite taken with David's gourd collection, and I had to avoid that section after we made one pass...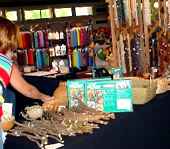 Karen Kirkland, Bob and Kathy James of Primitive Originals are always good for some new tools, materials, ideas! This year Karen is working with Kudzu and broom straw, great new looks...loved her "triangular" coiled gourd! Karen's stuff has been sellig so well that she did not have anything to exhibit this year! Wow.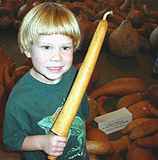 There were lots of things to do, and it was a good thing, too, as my kids came along. They had fun at the kid's table, painting a pin, and at the other activities provided by various vendors. Thanks so much for having those events!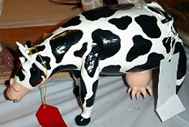 Come see more gourds (non-coiled) from the 2002 NC Gourd Show! (click on the cow, at left!)
Really did enjoy the show, got some great raw gourds!