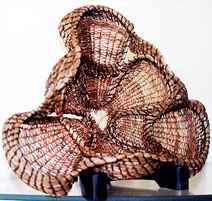 Explanation of the Techniques Used to Create Jeannine's Basket
by Flor Bosch

translation/coordination by Leigh Adams

In order to create this kind of basket, I have taken basic ideas from weaving on a frame loom; the same techniques you can use to create Tenerife and of course, baskets.

The elements I use are:
Rectangular or round wooden armatures
Strong waxed thread to "ress"or warp the loom
Vegetable fiber to weave
Needle and thread for coiling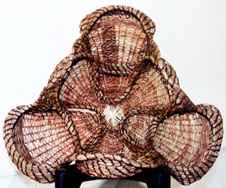 The weaving on the loom is done by hand (I don't use needles) using whatever stitch you know or invent. In my particular case, I use open stitches because I like the transparent effect the basket acquires and it combines perfectly with the compact weave given by the coiling.
Applying this technique, I create baskets in irregular forms (see PNG Gallery-Rhoda's Basket) as well as regular forms (Star Basket or Jeannine's Basket).
In general, the irregular forms are created on the rectangular armature as it allows me to weave with more freedom of movement, better control of the form and to separate the weave into different parts.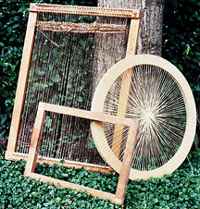 Wooden armatures of different sizes and shapes. On the outside edges there are small cuts to keep the thread from sliding.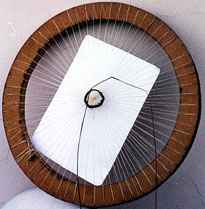 I arrange the warp thread around the frame. In this way, I can work two panels on the same frame at the same time. I insert a white paper between the two parts (before weaving) to better visualize my stitching. .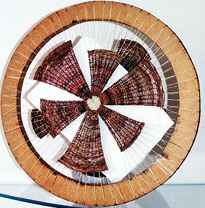 You can see the two woven panels. Observe that in the center part as well as on the far ends, I use twining in order to secure the weave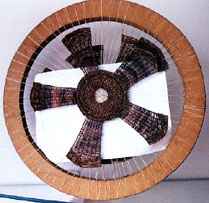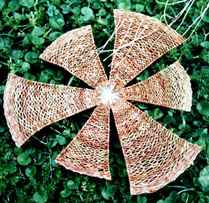 You can see that when the weaving is finished, you cut the threads over the edge of the frame and close the weave by inserting the cut threads into the twining using a needle. Using the same fiber used to weave or any other (pine needles work well) I give the basket form using the coiling technique.
Additional pieces utilizing this unique tenerife adaptation, also by Flor Bosch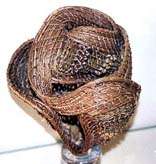 Ondulacion 2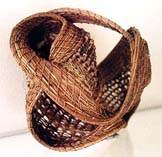 Ondulacion 3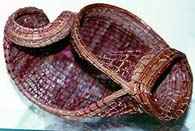 Rhoda's Basket





Additional pieces by Flor Bosch may be found in her Pine Needle Group Gallery