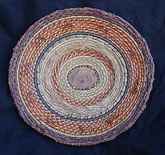 The Pine Needle Group
Gallery
Lynn Hoyt






More basketry and gourds by Lynn Hoyt can be seen at Coiled Gourds and Baskets.


Links on this page open in a separate window. Click on any photo on this page for a larger view!

"Meadow Maiden"

"Leather and Lace"

"Fringe Element"

Collected and coiled Miscanthus, Wild Tufted Grass, and Pine Needles

"Rhythm of the Rays"

"Ragamuffin"

"Square Peg"



More basketry and gourds by Lynn Hoyt can be seen at Coiled Gourds and Baskets.

Lynn Hoyt is a Member of the Pine Needle Group







Back to Gallery I choices


Home Members Pine Needle Basket Links Other Coiled Forms
Resource Links History & Technical Links Instruction Links Forums Exchanges Mailing List

Web design by Pamela Zimmerman