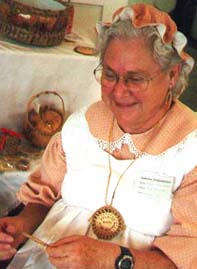 The Pine Needle Group
Gallery
Feature


The Hatmaker



By Kaye Burlason
Edited by Pamela Zimmerman

Also see Kaye Burlason's Gallery.

See the following publications for articles about Kaye Burlason:
Star Banner, Ocala Florida, Jan. 20, 1996
Country Folk Art Magazine---Vol. 9 No. 3, May 1997
Ocala Style Magazine--February 2001
Visit Kaye Burlason and Tina Draper, presented by The Folk Art Exchange. Pine Needle Baskets & Gourds for sale.
Also Kaye's Doll House Miniatures

---


Angel Hat.
Now in New Jersey





The first hat I made was just to see if I could do it. It looked between an old fashioned bonnet and a bee hive. My husband was not impressed with it at all. Although it was the first sale of the day. The lady that bought it was a pioneer crafter and looked cute in it.

Headband on granddaughter, Valerie-in Eustis FL.(Woody has the wire frames for two styles)


The second one had a little bit of a cone shape but the lady that bought it had a bun in her hair and it fit perfectly. At her death it ended up in the Dade City Museum.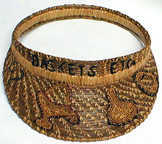 Pamela's Visor--NC



I made a few that fit my head and discovered they were too small for most people. They finally found a home though. Measuring heads works better.

Barbara's hat and sun visor have gotten about 14 years of crafters wear. I mended the area around the face a few years ago because she pulled it all the way over her face and then back up to hold all her hair up. The raffia had worn thin.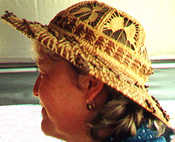 Marilyn Breeze - Pioneer Settlement, Barberville, FL.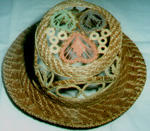 Dora Ann-Fort White, FL

Dora is National Yodeling Champ (right) and the hearts on the crown are for each of her children. Marilyn (left) donated her hat to Pioneer Settlement Museum in Barberville.

My son, in California, does air conditioning for the city. He was working in an old building with lots of trash. He found a heavy chunk of wood with a metal handle in the center that turned to open the two sides. On one side of the metal slide opening was marked "inches' on the other was "hat sizes." Kind of oval shaped and must have been used to measure, size or stretch hats. I use it to size and shape. Round hat bands don't fit heads!

Here is how Kaye does it:

1.

I prefer used T. V. Antenna wire for the hat bands. Measure on the hat sizer.

2.

Tape ends together with scotch tape, and remove from the hat sizer

3.

Buttonhole with untreated raffia (right from the package).
Coil 3 to 5 rows pine needles up the sides. (number of rows depend on the decorative frame sizes to be used next).

4.

Finish off and add a row of wrapped needles around the top. Wet and put on hat shaper to dry.

5.

When dry, pin decorative shapes around wrapped row. The buttonholed and Tenerife wires lessen the weight of the hat. Sew into place. Top shapes with buttonholed oval or wrapped pine needle coil. Check to see if sides are high enough to not touch the head. Add a few rows of pine needles if needed.

6.

Make a crown to fit, may have to cut pine needles away from coil on sides and add small pieces in front and back. Attach to crown.

7.

For brim, decide if it goes up in back and down in front or one flat all around. Spray a light coat of polyurethane.

8.

When finished, use sticky backed felt strip inside band.

The fishes in this hat were ready and waiting for a home.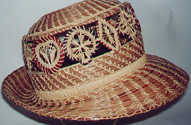 Aiko Johnson--Mt. Holly, N. J.


I buttonhole wires while traveling, waiting rooms, boating, visiting etc. Sometimes buttonholing wire frames takes more time than coiling pine needles.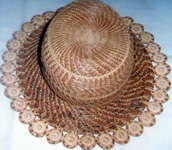 Ring hat purchased by another crafter in FL

To make raffia thread:
Soak untreated raffia in hot water. One strand at a time, spread the leaf open. Strip 1/4" to 3/8" with grain, with sewing needle.(or larger) Must be draft free so it can drip dry slowly. Fishing line between two kitchen chairs makes a drying line. Dripping wet, lay strands over line to drip on newspaper. As it dries, the raw edges roll to the inside. Makes thin thread for good pattern, no fuzzies and strong. I do a whole package at one time and when dry make twist bundles.



Pamela in her visor-- NC

My husband, Bob is my helper, tent putter upper, chauffeur. He also slices nuts for me. (Come see how he does it.)

Bob also takes me to collect wild things to use. We collected some thin slate rock in Tennessee at his cousins back acre. Dug it from the ground. Intend to use it as tray bottoms. The first 2 have to go to his cousin. Guess he gets the practice ones. (Sadly, Bob passed away, December 2003.)



Also see Kaye Burlason's basket Gallery.


Come see more hats by The Pine Needle Group.





See the following publications for articles about Kaye Burlason:
Star Banner, Ocala Florida, Jan. 20, 1996
Country Folk Art Magazine---Vol. 9 No. 3, May 1997
Ocala Style Magazine--February 2001

Visit Kaye Burlason and Tina Draper, presented by The Folk Art Exchange. Pine Needle Baskets & Gourds for sale.


Back to Gallery choices

Home Members Pine Needle Basket Links Other Coiled Forms
Resource Links History & Technical Links Instruction Links
Forums Exchanges Mailing List

Web design by Pamela Zimmerman