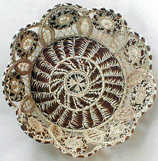 The Pine Needle Group
Gallery Feature
Mary Behrman




Creating With Pine Needles is a book written by Mary Behrman for experienced basket makers, and includes purses, jewelry, and other teneriffe designs.


Links on this page open in a separate window. Click on any photo on this page for a larger view!

| | |
| --- | --- |
| 12-Walnut Basket | Bendable Pine Needle Bracelet |
| Butterfly Basket | Basket stitched with colored raffia |
| Diamonds Basket | Heart Diamond Basket |


Read about the Pine Needle Duo
See Woody's Workshop



Mary Behrman was a Member of the Pine Needle Group for several years. She now resides in a nursing home in Florida, and is unable to continue coiling. Thanks for all the great years, Mary!



Back to Gallery choices


Home Members Pine Needle Basket Links Other Coiled Forms
Resource Links History & Technical Links Forums Exchanges Mailing List





Web design by Pamela Zimmerman