The Pine Needle Group
Gallery
Feature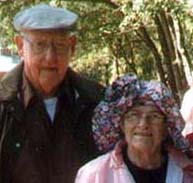 PINE NEEDLE DUO




By Kaye Burlason
Edited by Pamela Zimmerman

There is a wonderful pine needle duo living in DeLand FL.
Woody Sitzer makes wire frames for pine needle baskets at a price to keep the craft affordable and alive. Mary Behrman learned to coil in Daytona Beach sixty years ago, and now uses his frames to make beautiful teneriffe creations.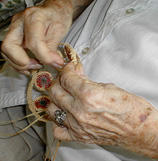 In 1965, Mary was teaching for Daytona Beach Community College and started a Hand Crafters Exchange. She taught all over Volusia County for a state funded Adult Education program until 1984. In the year 2000, she was still giving lessons in her home.
Sometime around 1965, Mary took lessons from Veronica Walsh, a German born pine needle author of three pine needle books. Veronica's friend, Jack Fraser , made the wire frames for her baskets. After Veronica passed away, Jack kept making frames until he passed away in 1970.
Mary's long time friends, the Sitzers, bought Jack's business of wire frames. Woody has most of the molds for Veronica's three books, and more. Woody solders the wires and there is never a burr to tear your raffia. He will custom make a shape, if you order enough to pay him to make a mold.
Kaye Burlason met them at her first craft show in 1983. Mary gave her special classes in her delicate Tenerife patterns.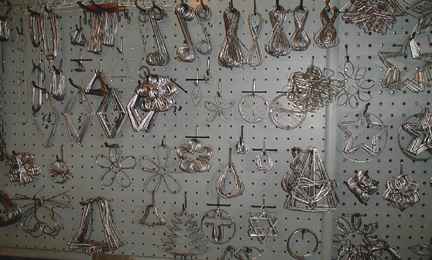 Woody's little back yard barn is like getting into a candy store for Kaye. Kaye gently bends some of his frames to suit her needs. He says she mutilates them. She says they are wonderful to work with.
Mary and Kaye attend each others' demonstrations and craft shows and do both together at times.
Mary has published a book, Creating With Pine Needles. The diagrams were drawn by E. Peterson. The book is for experienced basket makers, and includes purses, jewelry, and other teneriffe designs.
In 2003, Mary and Woody both experienced a dramatic decline in health. Woody succumbed to cancer in May. Mary moved into a nursing home, and can no longer coil pine needles.
Woody's wire frames are still being produced by Chris Manno of C. Coyote Wire Frames. For contact information, check Woody's workshop, and see his molds and wire frames.